NEW 2021 Ty Product Release
Wowee! The first of Ty Inc's new products for 2021 are these amazing 10" Squish a Boos. A new smaller version of the large 14" Squish a Boos.
They have 15 designs available and 6 of those are brand new to the Squish a Boo range, they include:
Hope Bear Squish a Boo,
Helena Husky Squish a Boo
Gilbert Giraffe Squish a Boo
Cooper Sloth Squish a Boo
Pinky Owl Squish a Boo
Lainey Leopard Squish a Boo.
You can see them all here 
Now these following Squish a Boos are available in the original 14" as well as the super cute NEW smaller 10" designs:
Fantasia Unicorn Squish a Boo
Heather Cat Squish a Boo
Slush Husky Squish a Boo
Bamboo Panda Squish a Boo
Giselle Leopard Squish a Boo
Dotty Leopard Squish a Boo
Owen Owl Squish a Boo
Zoey Zebra Squish a Boo
Kiki Cat Squish a Boo
You can see the full range in 10" or 14" here
We are excited to see what else is to come from Ty in 2021. We are looking forward to some new 2021 Ty Beanie Boos, Ty Puffies, Beanie Babies, Easter Beanie Boos, Teeny Ty's, Mini Boos and much more. 
If you want to find out first about BRAND NEW product releases then you can find out here 
Tap here to find out first about the new Ty product releases NEW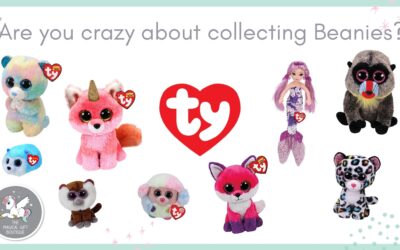 Are you crazy about collecting Beanies?  Whether you love Beanie Boos, Beanie Babies, Classic Beanies or any of the other cute ranges from TY Inc. then you will love this Ty collectors club.  So, why collect Beanies?  The major Beanie Babies collecting craze started...